Introducing powerful new works by world renowned artist, Lorenzo Ghiglieri. The diversity of his genius is profound. Each masterpiece evokes a distinguished style that reflects the integrity of Creation. It defines and reveals a unique power and beauty that is authentic, meaningful, and becomes valuable for the discerning collector. It is his passion.
Welcome to the World of Art
" The Eye and the Hand of the Master "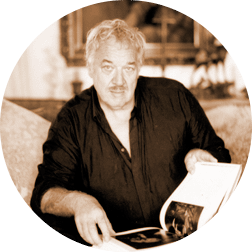 Born in America of Italian, French and German immigrants, Lorenzo Ghiglieri grew up in a rich ethnic culture on the fringe of Los Angeles near clear mountains, sandy beaches and arid deserts of southern California. After receiving extensive formal training, Lorenzo took it upon himself to study the Old Masters, especially deriving influence from Rembrandt, Velazquez and Corot. At the age of seventeen, he was honored with a prestigious art scholarship, but was interrupted serving duty on a U.S. destroyer during the Korean War. He received his first commission as a combat illustrator from the United States Government to paint a marine scene that became a gift to Great Britain, to honor Queen Elizabeth II's coronation. At twenty-two, Lorenzo was working as an illustrator on various national accounts in New York, Chicago, and Los Angeles through an international advertising agency. Whether you're curious about Sculptures, Paintings, or even Custom Commissions, we're here to answer any questions.